FAQs
1. Why is a new fire station need?
Replacing this facility will have a tremendous impact on service to the neighborhoods from a 21st century fire station/public service facility that provides proper accommodations for full- time resident firefighters assigned while benefiting citizens and customers alike. For more information, please click here.
2. How much will it cost?
For information on how much the new station will cost, including the millage rate and cost per household, please click here.
3. What will a new station look like?
For more information on what the proposed design of the new Central Fire Station is, please click here.
4. Where will a new station be located?
For more information on where the new building will be located, please click here.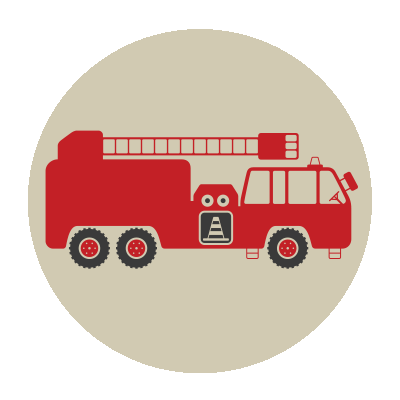 5. Why is the millage funding needed?
Like most municipalities, the city has experienced budget declines as a result of the recent recession. Between 2009 and 2010, the City Council cut $4 million from its annual general fund budget and most of those cuts have been sustained since then. Additionally, revenue growth has declined in recent years, limiting the City's ability to set aside funds for capital replacement.
Cost cutting measures have been initiated to maintain city services and quality of life in spite of budgetary restrictions. City government full-time employees are currently at 173, down from 250 in 2006. The City implemented a Public Safety Officer system, which utilizes 34 trained police officers to help maintain Medical First Response (MFR) and Fire Response Assistance to the 15 fire safety personnel.
Additional budget reductions have included the following: early retirement incentives; operational assessments and improvements; debt refinancing; health benefit changes; operational functions; lower utility costs; intergovernmental collaboration; privatizing and contracting with external organizations; reduced property and liability insurance costs.
6. What is the present condition of the current Central Fire Station?
The 14,140 square foot Central Fire Station at 75 Scott Street was built in 1968 and has major structural, electrical and mechanical issues. Health and safety of personnel who work in this environment are a concern, as is the department's ability to efficiently train its team.
An independent, comprehensive third-party assessment in 2014 by Redstone Architects lists numerous structural, mechanical and operational issues that deem Central Fire Station functionally obsolete and inefficient. Some issues include chronically leaking roofs and related persistent secondary structural damage, significant rust damage to metal window framing and walls, narrow apparatus bays, poor energy efficiency, lack of accommodations for female staff, etc.
In addition, it offers no spaces for growth to satisfy current and future needs of the department and city residents. Pics of the current fire station can be found HERE.
7. What will happen to the current Central Fire Station?
The old Central Fire Station will be demolished to make room for the new fire station utilizing the same site.
8. When could tbe new building be builit?
If approved, construction could begin by spring 2017. Completion would be expected by late 2018 to early 2019.
9. Why not remodel the old station?
Current structural deficiencies call for more than a simple remodel. Costs for repairs and upgrades are estimated at $3.7 million. The anticipated life expectancy of a reconstruction effort offers a poor return on this long term investment.
In addition, the current station offers no spaces for growth to satisfy current and future needs of the department and city residents.
10. How would the architecture of the building fit into the surrounding neighborhood?
The City of Monroe takes pride in the appearance of its facilities as civic assets. In addition, City is sensitive to the need for the fire station building design to mesh with its surroundings. To that end, the City has given thoughtful consideration to the proposed architecture of the building through the design process, and take steps to ensure that the final design is compatible, to the extent possible, with its neighboring structures.
11. What value is there in having a fire station in our neighborhood?
The presence of a fire station adds security to the neighborhood. A fire station is a public safety building with 24-hour staffing available to respond 365 days a year. Further, law enforcement personnel often use the fire station as a place to complete reports or address other administrative matters, which adds to the security and quick response should something happen.
When fire breaks out or a medical emergency occurs, time is of the essence. Having a fire station centrally located in your neighborhood means fire fighters are closer to you or your family in your time of need.
The process of building a fire station includes creating a building that is functional as a fire station, yet complimentary to the surrounding neighborhood. The station will have a community room that will provide benefit to the residential community.
12. What should I expect living near a neighborhood fire station?
Fire fighters are good neighbors and great role models for children in the neighborhood. Fire fighters enjoy getting to know their neighbors, and play an active role in helping increase preparedness and safety for families. A fire station is "home-away-from-home" for our fire fighters, who are on duty for 24 hours shifts. They take great pride in keeping their stations and landscaping in excellent condition. Additionally, consistent traffic from our public safety officers provide an increased security presence.
13. What will the noise, traffic, and lights be like during normal operations and during an
emergency?
Although there are some similarities, a fire station realizes less vehicle traffic than a traditional business. During non-emergency periods, a fire station would be similar to some small businesses with parking for employees' personal vehicles and some commercial vehicle traffic. Non-emergency calls and routine traffic should be of minimal impact, if any. During an emergency response, residents in the immediate area may experience the use of emergency lights and sirens as the crews enter the roadway and proceed to an emergency call. The noise produced in connection with an emergency call for service is transitory and dissipates quickly.
14. What will the proposal language be on the ballot?
Shall Section 118 of the Charter of the City of Monroe be amended to allow Council to levy up to .47 mill for twenty (20) years beginning with the 2017 tax year and running through the 2036 tax year for the purpose of constructing and equipping a new central fire station? If approved this would be a new millage which will raise in the first year of such levy an estimated four hundred forty thousand dollars ($440,000.00).
IN FAVOR_________________________YES
OPPOSED_________________________NO
​
​
15. Why is this back on the ballot after previous consideration?
For information on why this is back on the ballot, please click here.